Archives
---
Volume 26 Issue 2 — November/December 2020
---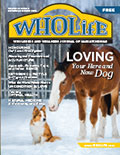 Maybe It's Time to Take Off Those Rose-Coloured Spectacles: Loving Your Here and Now Dog
by Kristi Benson
My first dog was perfect. She was sleek and black and poised and majestic. She had a big black head and tiny black ballerina twinkle toes. And she was well-trained, with no real work. She was everything. We were two hearts beating as one. She died two days before Christmas in 2009 and I have never been the same; something changed in my DNA that day. Many, many dogs have come through my home and heart since my first dog, and I have loved them all. I'm afraid, though, that on some days, and for some of their—let's call them quirks—there was a distinct lack of perfection in what I saw. A lack of twinkle-toes, a lack of ballerina blocky-headedness.
---
Building and Honouring Our Local Food System
by Amy Miller
"Let food be thy medicine and medicine be thy food." —Hippocrates
Fall has now settled in, crops are safely in bins, and the garden's bounty has been brought in and stored, frozen, or preserved for use through fall, winter, and into spring. With this completion of harvest, our meals, cold rooms, and freezers start to reflect the season's bounty. The fall harvest brings an abundance of vegetables to our kitchens. Root crops, squash, pumpkins, and pulses such as peas and lentils add a variety of colour to any meal. Preserved fruits and vegetables line our cold room shelves and our freezers are topped back up with bags of vegetables ready to be pulled out for meals.
---
Natural Medicine for Immune Enhancements and Stress Management
by Nick Martinuik, DNM, DIHom, RMT
The importance of a healthy immune system has gained significant recognition during this global pandemic, and it is easy to understand how the human body is under a constant test in the areas of physical and mental health. Although ongoing research continues to discover new medications and treatments, everyone has developed a new appreciation for a healthy immune system and our natural defences. Natural medicine has the potential to activate, balance, and support a healthy immune system, and includes many substances that are recognized as powerful adaptogens, which increase energy and the body's resistance to stress. We must respect the research, history, and experience that natural medicines can share, their purported benefits, and how they can impact our physical and mental health.
---
Combining the Science of Ayurveda with the Art of Yoga, Odissi Classical Indian Dance, and Flamenco is a Perfect Balance to Anyone's Lifestyle
by Kari Alba
There are blissful movements and energies that take us to enchanted places in our heads and in our hearts, but how do we access the bliss for better health and well-being? Flamenco was always one of the places where adapting such feelings came naturally. The high vibrational LIVE music created by flamenco guitar, flamenco dancer, and cantor flamenco voice, never fails to send shivers up the spine.
---
Ketogenic Lifestyle for Remission of Type 2 Diabetes
by Taranum Sultana
Type 2 Diabetes (T2D) is a disease of high blood glucose (sugars), or a carbohydrate intolerance disorder. It is a serious condition that persists for a long time and gets worse over time for many patients; therefore, it is traditionally considered as a chronic progressive condition. Complications related to diabetes are serious and can be life-threatening. Worldwide, the number of people with type 2 diabetes has climbed from 108 million in 1980 to 463 million adults (20–79 years) in 2019. This is expected to climb to 700 million by 2045. As per Diabetes Canada, currently, one in three Canadians has diabetes or prediabetes.
---
Neurological Disorders and Acupuncture
by Dr. Ranvir Pahwa
Neurology is a branch of science that deals with the study of the nervous system. It involves anatomical, physiological, and disease aspects. With regards to disease aspects, it deals with diagnosis and treatments of all conditions associated with the central nervous system (CNS) and peripheral nervous system (PNS). Conventional medicine uses medicines, surgery, and physiotherapy for the treatment of neurological disorders. There are several neurological disorders that are listed in the medical literature.
---
Creating Optimal Wellness
by Jennifer McCowan
Poor gut health is the root of many dis-eases in our body, leading to poor hair health. By focusing on the gut, we can often get to the root of many of our health issues. Utilizing proper nutrition is the most common way to a healthy body, and healthy hair is often a result. Being deficient in a vitamin or mineral, is critical to body and hair health; essential organs will receive them long before your hair does, so it is very important to follow a meal plan that is specific to your body. Most of us have underlying food or food additive intolerances.
---
Editorial
by Melva Armstrong
It has been a very interesting and eventful production period for this latest edition of WHOLifE Journal. It never ceases to amaze me how things just unfold in perfect right order, and that's when I remember there are often helpers working in the wings to guide the process along. I am very grateful for all of you who have chosen to become a part of this issue. It is a true pleasure to work with every one of you and to share the process of coming together with the purpose of offering people in our communities, and around the world, health and wellness information they can use in their daily lives. These days especially, it is clearly important to keep our bodies and minds in tip-top shape, so we can avoid getting sick.
---
Plus:
Have You Checked Your Lady Balls?
What the World Needs Now Is—Love Sweet Unconditional Love
Fall is here—we have news!
News of Note
---
Recent Issues
---