Archives
---
Volume 25 Issue 2 — July/August 2019
---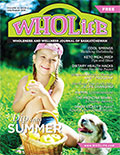 Dip Into Summer!
With Baba Ganoush, Hummus, and Guacamole
by Stacey Tress
Surprise your guests and your family this summer with these delicious and nutritious dips! (And be kind to your budget at the same time, as they are much lower in price compared to the versions you may find in the grocery store, and fresher, too!) I'll offer up three of my favourite dips to make -> guacamole, hummus, and baba ganoush, and touch on some of their key ingredient health benefits and tidbits.
---
Cool Springs Ranch
Ranching Holistically and Providing Healthy Traditional Food
by Janeen Colvin
Well, I'm not sure where the time has gone, but it's coming up on our 10th anniversary of Cool Springs Ranch as a provider of grass-fed meats and eggs in Saskatchewan! We could probably write the book on what NOT to do in ranching, butchery, and sausage making! But in spite of fresh challenges every year, the dream of raising healthy traditional foods and ranching holistically has only blossomed and matured.
---
Keto Meal Prep Tips and Ideas
by Taranum Sultana
Nutrition choices play a major role in achieving health and wellness goals in a ketogenic lifestyle. Eating healthy, clean, and whole foods help achieve the desired health outcomes. Therefore, meal planning, healthy food choices, and cooking skills have the potential to affect one's overall wellbeing and health. Forward meal planning is crucial for a sustainable and successful ketogenic lifestyle. It allows you to control macros and serving size, and it saves you time and money, too. It gives you complete control on selecting high quality ingredients and preparing the foods you love.
---
Dietary Health Hacks – The Power of a Green Smoothie
Dr. Michelle Sthamann, ND
Have you ever wondered what else you can do to optimize your health? What supplements? What diets? What foods? You are not alone. Even as a licensed naturopathic doctor with eight years of science-based education, the information available to us is vast and biased. However, one aspect of nutrition that will never fail to provide undeniable health benefits is vegetables.
---
Remove Food and Chemical Sensitivities and Allergies Through NAET® Program
by Dr. Ranvir Pahwa
What is It? NAET® (Nambudripad's Allergy Elimination Technique) is a natural and non-invasive, drugless procedure to treat and eliminate all kinds of sensitivities and allergies to foods, herbs, vitamins, chemicals, environmental substances, etc. NAET was discovered by Dr. Devi Nambudripad in 1983, who postulated that almost all disorders (also comprising developmental disorders) are caused when the electromagnetic forces of allergens (foreign substance – foods, chemicals, etc.) interrupt the energy flow inside the body. The focus of NAET treatment is to restore the energy balance of the body through a variety of techniques, ranging from kinesiology, Chinese acupuncture, chiropractic, and homeopathy.
---
Crystal Journey Tours Saskatchewan
A Night To Remember Tour
by David Hickey
When most people consider a life altering experience they may have had an event happen that could have included a death in the family, a job loss, a breakup, etc. Well, for me, the life altering experience was one that was unexpected and none of the above. I had offered up to the universe my intention to make the world a better place. What that looked like I had no idea —a monastic life? a job involving the environment? volunteering? I didn't know. I had come across this Buddhist teaching of Bodhisattva, "A person who is able to reach nirvana but delays doing so out of compassion in order to save suffering beings." I thought this was it, what more could I ask for? But, what the heck would that look like?
---
100 Pounds Loss in 165 Days: It's Been Life Changing!
by Steve Hurley
My story starts in the early 1990s when I travelled the world as a professional wrestler, thinking I was in the best shape of my life. Man, was I wrong. I was part of an industry that had me flying around the world, wrestling in front of thousands of people on live TV tapings, and all the way down to local venues in remote communities. My biggest gratitude was being able to wrestle in local First Nation communities across Canada. I would spend hours driving, sometimes on winter roads, across frozen lakes and logging roads, just to get to the community. It was all worth it once we were there.
---
The Medicine Wheel
~ A Healing Journey ~
by Michelle Weston
The Healing Land – On land owned by Joseph Poirier, there is an incredible energy that's felt as soon as you place your feet upon it. Surrounded by trees, rolling hills, and natural grasses sits a hidden sanctuary. This acreage is serene and peaceful. Upon arriving, you feel a sense of security and happiness and you are welcomed as an honoured guest. When leaving, you leave as a friend with hope in your heart.
---
Expect the Unexpected with Animal Communication
by Jadi Kindred
Unexpected answers is a common characteristic of intuitive communication. When I first begin a reading for my clients, they often have a preconceived idea of what the problem may be for their beloved pet. I, myself, may have another preconceived idea as well. The answers I receive are usually very surprising to me and unexpected. That is when I know I had made a strong connection with that particular animal. After a reading, there may also be an unexpected change in the animal's behaviour. I would like to share with you a couple of those stories.
---
Editorial
by Melva Armstrong
Welcome to the summer issue of WHOLifE Journal. It has been another terrific experience putting it together. This includes meeting a lot of new people as well as reconnecting with many I already know. It's a joyous lovely balance of caring and sharing and working together to bring you the latest health and wellness news. After 24 years of creating each issue, it still brings me much happiness to do this work. I say heaps of thanks to all those wonderful individuals who are part of this July/August 2019 issue.
---
Plus:
News of Note
---
Recent Issues
---