Happy New Year! It's 2022 and at Ravenheart Farms We are Celebrating Our 15th Year Anniversary!
by Carol Marriott


---
"Watch for more details about Ravenheart Farms 15th Anniversary celebrations in the March/April 2022 issue of WHOLifE Journal."
We would love you to celebrate it with us.
Throughout 2022 we'll share memories of the many special friendships made over the years, moments of inspiration, and a photo journey of all things Ravenheart, through our social media pages, email, articles, and special celebrations here at Ravenheart.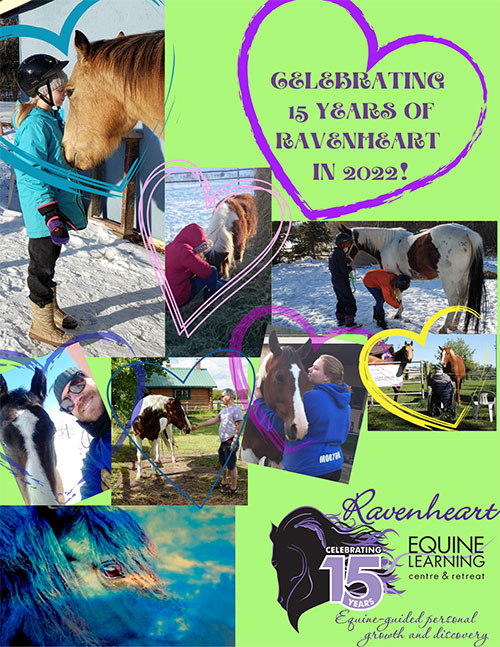 Ravenheart Farms 15th Anniversary Gathering
Join us over the May long weekend, May 20–23, 2022, at Ravenheart Farms for a gathering and celebration reunion. Bring your tent or RV and stay on the land. We'll have lots of fun activities planned and look forward to making more memories. Watch for details coming in early January at www.ravenheartfarms.com and on Facebook at Ravenheart Equine-Assisted Learning Centre & Retreat. Camping will be free and we'll have a catered meal and campfire on Saturday night, and the rest of the meals will be a potluck sharing. We'll hike, and drum, forage, and enjoy the land, the animals, and the company of each other.
Everyone is welcome. Renewing connections and creating new ones. This celebration is for everyone who has been a part of Ravenheart family in some way over the years, or if you are joining us for your first visit.
If you have a special memory of Ravenheart, we'd love you to email a word or two that we can include in our memory journal. Email your memories to ravenheart@sasktel.net or mail to Carol Marriott, PO Box 278, Kamsack, SK S0A 1S0.
Also watch for more details about Ravenheart Farms 15th Anniversary celebrations in the March/April 2022 issue of WHOLifE Journal.
Carol Marriott is a Certified Equine-Assisted Learning facilitator, a Certified Life Coach, Trauma-informed grief and loss practitioner, Certified Life Celebrant, Therapeutic Art Life Coach, and Certified Victim Services Coordinator. Her background includes a life-long passion advocating for the well-being of vulnerable people and animals, human resources, volunteer management, literacy, injury prevention, and community development. She owns and operates Ravenheart Farms Equine-Assisted Learning Centre & Retreat near Kamsack, SK. To contact her call (306) 542-3557, email ravenheart@sasktel.net, and/or visit www.ravenheartfarms.com.