Think Outside the Box – No Box Required
Explore Ideas that are Creative and Unusual
by Laurie Renton and Sylvia Henheffer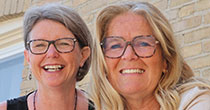 ---
Is there an area of your life where you're feeling overwhelmed, dissatisfied, unfulfilled, angry, frustrated, or just plain tired?
We are at a time on this planet where so many of us are searching for how we can get to a place where we are able to live in joy.
There is an opportunity, not just for going back into our habitual patterns, but to "Rediscover Our Values" and renewing those neglected important ideals—for ourselves, our families, our communities, and our world.
Have you ever had an opportunity to sit at a table with others and have conversations around values? Seeing not only your own point of view, but getting insight from others' points of view?
An opportunity to "Rediscover Your Values" through a powerfully unique process that will sharpen your senses and open you up to new possibilities by looking through the lens of your values; your values which are so impactful on your life.
Incorporating our personalities into the process has allowed so many of our clients, individuals, groups, and businesses to truly discover the impact our personalities have on our everyday choices and decisions by our habits of attention and not realizing our blind spots.
The choices we make by the values we hold near and dear in our hearts may not come out in flow (which is our behaviour), often causing that feeling of imbalance, frustration, or anxiety, which holds you back from living in harmony.
"Miracles truly are just a Shift in Perception."
This great work can become consistent and will show up and shift in all areas of your life—relationships, home, work, school, social life, community, money, lifestyle, health, and well-being. After all, it is all connected.
Wouldn't you like to broaden your perspective and create flexibility and live your values, leading you to more happiness and joy?
THE POWER OF A QUESTION: When we start with the wrong question, no matter how good an answer we get, we will not get the results we want.
Rather than saying, "When will this virus and these world circumstances be over?" could the right question be, "How will this change us?" I feel the worst thing we could do is go back to normal. Are you kidding me? "NORMAL" is what got us here!
What we are learning in this current crisis is that RELATIONSHIPS really do matter.
What do you see as your moral compass? If you don't know, would you like one as your guide? We, at The Visionary Hub, can help guide you to finding your Core Values which are important as they are a set of beliefs and behaviours that you can follow toward your own personal growth.
Change starts when only some people make different choices, but change grows when we make choices together. Through the process of making different choices, and when there are enough of us, then change can become a social movement which can change history. Are you ready to step into change which will not only empower you, but will empower those that you influence—your children, grandchildren, and those close to you?
"Never doubt that a small group of thoughtful, committed citizens can change the world, indeed, It's the only thing that ever has." —Margaret Mead
It starts with you; believing in the power of choices…believing that change is possible by giving ourselves the opportunity to look at our habits and patterns through the lens of values and by our actions.
Getting or going back to the way things were is not an option. Why don't we take this time and use it to find some moral clarity, rediscover our values, and truly come to discover what it is that's important to YOU!
Laurie Renton owned her own financial services firm for 27 years. Her dream was to create a space where she could guide others through a process of getting unstuck in their lives. Laurie acquired her leadership certification, her life coaching, as well as many other courses that led her to being a co-founder of The Visionary hub with her partner Sylvia Henheffer. Sylvia realized that her values of freedom and flexibility were not being fulfilled in her corporate job and she ventured out into entrepreneurship and into partnership at The Visionary Hub, located in Yorkton, SK. You are invited to join them in-person or online for an experience of new possibilities… it is truly transformative. For more information visit thevisionaryhub.org, Facebook, or call (306) 783-7737.