"Next Year" Is Here...Enjoy Lentils!
by Hazel Tanner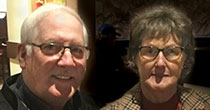 ---
At time of writing, the strange weather season that was 2021 has drawn to its autumnal conclusion, and winter is blowing wildly in! Here at Pure T Organics, I and David Tanner have just celebrated 50 years of marriage, and as many years of farming in this beautiful location on the banks of the Cottonwood Creek, ten miles west of Regina. God has richly blessed us over the years with two children, seven grandchildren, and two great-grandsons! How quickly those decades sped by.
We have not always been organic, being caught up in the chemical craze and fertilizer frenzy. For a long time, I had hoped to get out of that cycle, which was not only gobbling up more than we could earn in the seed cleaning plant, but it was endangering our family's health as well. It took a breast cancer diagnosis in 1994 to begin the long overdue change. As a registered nurse, I had seen more than enough emaciated chemo and radiation patients and knew that conventional treatment was not an option, so I began to ask about and research alternative therapies. Immediately, I was certain that the Gerson Therapy™ was ideal for me and began a challenging journey, excited and not a bit ill. This was certainly food based—it reminded me of the diet Daniel of old had requested of the Babylonian King! For an entire year, I enjoyed 13 fresh juices per day, and more organic foods than imaginable, plus a nourishing healing soup aptly named Hippocrates. I omitted all salt, sugars, canned or frozen or processed foods, animal fat, bread, and dairy (except for an occasional slice of very dark bread from Rudolph's Bakery in Toronto and a cup of plain yogurt every other day). Three weeks at the Gerson clinic in Tijuana, Mexico, after harvest was a wonderful rest (see Gerson.org).
It took four more years for David to make the "chemicals cause cancer" connection, but in 1998 we transitioned our four quarters to organic and never looked back, despite lots of opposition from crop sprayers and others. On the bright side, we are so grateful to the pioneers in the budding organic industry who encouraged us to give it a try, and whom, by the way, are still encouraging us today! Enough shared... now back to lentils!
This versatile crop had been a successful part of our rotation conventionally since their introduction to Western Canada, so we continued to grow them organically and were pleased with the results—little problem with diseases such as Ascochyta, and many new varieties being developed. Wikipedia states that lentils are the oldest cultivated legume, planted as early as several centuries B.C. Their benefits to our health are many—lowering blood sugars and cholesterol, assisting in weight loss, increased heart health, intestinal regularity, and improved digestive health, all because of their rich abundance of potassium, magnesium, vitamin B6, folates, and prebiotic fibre. Although they have a relatively high caloric count, lentils are zero percent fat.
From soups to salads, sauces to snacks, casseroles and dahl, countless dishes boast lentils as their star ingredient. Personally, I prefer using red lentils in a tomato-based soup, as the colour blends well, and the flavour is slightly more delicate (any variety will work); but in a lentil rice casserole, I omit all tomato, and use instead mustard (prepared or powder) and other favourite seasonings. Did you know that a combined rice and lentil dish is a complete meal with all essential amino acids and minerals? Add a fresh organic salad and/or whole grain bread and it's a bonus! Why not indulge in a berry crisp or crumble for dessert, too?
Some clients find they like to use our Splentil or Pulse Mix in soups in lieu of lentils, but that might tend to make it floury rather than thickened; if you try this, the Pulse Mix would be my recommended choice since it does not contain spelt.
One of the characteristics of pulses that makes them such a valuable and readily marketable commodity, as well as an incredible protein/meat alternative, is their high content of enzyme inhibitors, the trait of which caused them to be detrimental to the Gerson Therapy diet I pursued, because those same inhibitors were in direct opposition to the thousands of enzymes I was ingesting.
Red meat of any description has never been something I cared for (remember the liver on your childhood plate?). During my search for cancer therapies, I was relieved to discover the book titled Eat Right For Your Blood Type, authored by Dr. Peter D'Adamo, where I read that one of the least healthy foods to eat for a person with Type AB blood was red meat (only lamb, rabbit, or turkey, once or twice per week). Three cheers for turkey and for lentils, too! (I'm snacking on crackers and hummus made from our yellow peas as I type.) Chickpeas (garbanzo beans) are the usual legume of choice for this tasty dip, but are more commonly grown in the Moose Jaw to Swift Current areas which are somewhat drier! (What could be drier than our region these last four years?) Other pulses which are routinely grown in our province include fava beans, soybeans, and some navy beans; also yellow, forage, and field peas. The pet food market has become a huge player in the pulse industry, especially in the addition of peas to their products. A major recent event, which served to increase the world's awareness of legumes, was the General Assembly of the United Nations declaration that 2016 would be called the International Year of the Pulse. The popularity of these humble yet vital seeds skyrocketed globally.
The nutritional values vary somewhat with each variety of lentil, but overall they are all an excellent fat-free source of protein and contain many essential nutrients. In-depth charts and information may be found on lentils.ca and pulses.org, along with scrumptious recipes and vivid photos to whet your appetite and stir your imagination.
Following are three of our most often made dishes:
Nourishing Lentil Soup
1 1/2 cups red lentils (uncooked)
3 cups tomato sauce or diced tomatoes
1 cup chopped carrots
1 chopped large onion
2 cloves garlic chopped
1 cup chopped potato
salt, pepper, and other of your preferred seasonings
water or broth as needed
Sautee onions and garlic, add to stockpot with remaining ingredients.
Add water first until lentils are partially cooked, then tomato sauce.
Bring to a boil, then simmer approximately 45 minutes or until lentils are soft.
Note: use whatever veggies you have on hand, use water saved from cooking, and for a heartier soup, saute ground beef or sausage with the onion. This seems tastier on day one or two, and freezes well.
Cherry Lentil Brownies
Adapted from the Big Book of Little Lentils (SaskPulse)
1/2 cup cooked beluga lentils
1/2 cup red lentil puree
1/2 cup softened butter or margarine
1/2 cup cocoa powder
1 cup apple sauce
3/4 cup brown sugar
1 cup organic cherries (pitted) fresh or frozen
1 cup red lentil flour
1/2 tsp sea salt
1 tsp vanilla
Place butter, puree, beluga lentils, cocoa, salt, vanilla, and sugar in medium bowl, and mix until well-blended. Add apple sauce and flour alternately until smooth, then fold cherries in gently. Spread batter evenly in greased and floured 9"x13" pan and bake at 350ºF for 25 minutes or until inserted toothpick comes out clean. Cool in pan, frost as desired.
Tanner Lentil Salad
2 cups uncooked lentils
1/2 cup of each chopped: red and green onion; red and green apple; red, green, yellow and orange sweet pepper; celery
3/4 cup dried cranberries
1 1/2 cups (approx.) mayonnaise
Rinse lentils, cover with water in large saucepan, and bring to a boil. Reduce heat and simmer until soft but not mushy, stirring and adding water frequently (about 25 minutes); they will almost double in volume. Drain and chill thoroughly before mixing in veggies and mayo. Serve in your best salad bowl (glass is nice) and garnish, if desired, with cranberries, mint or basil leaves, or apple slices. Enjoy!
Pure T Organics (Hazel and David Tanner) produce, clean/process, and market certified organic cereals, pulses, flax, and freshly ground flours for seed and retail clients. Find a complete listing of their products on The Farmers' Table, Regina Farmers' Market, and Local and Fresh websites. City delivery is available for a nominal cost, and farm gate clients are also welcome. To contact David and Hazel Tanner, please call
306-757-7012, David 306-537-2903, Hazel 306-537-1337, and view their original video on YouTube.