The Power of Human Touch
by Christopher Shirley


---
Yes, many of us do not appreciate just how powerful our touch is. Thankfully, research studies can wake us up to the power of our touch.
In one study, selected students leaving the campus library, unknown to them, received a fleeting, imperceptible touch from the clerk at the checkout desk as they had their books returned. Others did not receive that fleeting touch. Those who did receive the touch rated the library significantly higher than those who were not touched.
In another research study, a stranger was able to identify different emotions from a one-second touch from another stranger who was not visible to them. The emotion most accurately identified was compassion, and the emotions gratitude, anger, love, and fear were identified accurately. Interestingly in this study, men were not able to identify anger when a woman presented it, and, women were not able to identify compassion when a man communicated it!
Another study reveals that the benefit of human touch starts from birth. In this study, preterm babies who received 15 minutes of touch, three times a day for 5 to 10 days, gained 47% more weight than the babies who received standard medical treatment. This might explain why babies in orphanages, starved of human touch, fail to grow to the expected weight and height.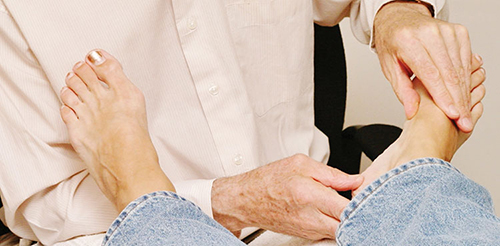 Recent research studies identify that touch activates part of the brain associated with feelings of reward and compassion. Similarly, studies show that touch calms cardiovascular stress—it soothes, signalling safety and trust. Other studies demonstrate that brief touch such as a shoulder pat, promotes trust and generosity, with the recipients of touch more likely to share and be co-operative.

There have also been studies of humans touch in different countries. In one study, when two friends held a conversation in a café for an hour in the U.K., they did not touch each other at all. In the U.S., friends touched each other an average of twice. In comparison, in France, friends touched each other 110 times and in Puerto Rico, 180 times!

I do not know about you, but I find all of this amazing. The research shows us that there are many aspects of touch, all of which produce very healthy, pleasant benefits.

Here in Canada, I suspect that we are similar to our U.S. neighbours. We do not touch each other very much. Especially following all of the fear and apprehension that COVID created. Since COVID, shaking hands and hugging have definitely taken a downturn.

So, how can we turn this around and enjoy the benefits of touching each other more frequently? We can certainly make a concerted effort to shake hands with and hug our acquaintances.

For many of us, it will be more comfortable for us to do this with our friends and family—with those that we are already close to. Even so, for many of us, touching others feels a little awkward and not natural.

Therefore, it might be easier to increase the benefits of touch in our lives if we create a structure for ourselves. For example, arrange with a person that you feel most comfortable with to get together to exchange a massage.

Select a private place, warm and comfortable. Some relaxing music is a nice option. Decide on a time that works for both of you, so you will not feel rushed. If there is not enough time to exchange, consider arranging two meetings so both get a turn to give and receive.

Not everyone is comfortable giving or receiving a body massage. This will be especially true of many teenagers. That is O.K. My favourite touch technique is reflexology, which is a specialized massage of the feet or the hands.

The feet are a comfortable part of the body to have massaged. If that is not true for you, then the hands might be better. In the theory of reflexology, every part of the feet or the hands corresponds to another part of the body. Therefore, stimulation of the feet or the hands, relaxes the rest of the body. Some people prefer it to a full body massage. You may too.

On a more personal note, my eldest son just loved getting his feet done. He would come to his mother or me and ask if we were up for giving him a treatment—no matter how brief. During the session, he would often just fade away. Other times, he would chat about his life—right through his teenage years. How priceless that was. Reflexology really is like a bonding cement that holds families together.

Experience is not necessary. Just explore the feet with repeated strokes and anything else that feels good. You can do this any place where you and your friend are comfortable. Possibilities include a park, the beach, or any comfortable room. For the hands—they are more convenient and easier to massage almost anywhere.

To know more about reflexology, visit a website that I recently created. It has an immense amount of information about reflexology conveniently organized in one place: www.reflexologyresources.com.
If you would like to be effective with reflexology, there are a couple of options for you. One is to attend a weekend workshop that will train you in reflexology techniques. Here is more informatio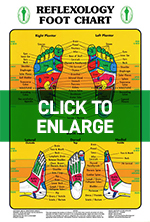 n: www.pacificreflexology.com/reflexologycourses.
Another option is to purchase a DVD that will put all of the benefits of reflexology at your fingertips. A woman reviewing the DVD for Alive Magazine was surprised when her six-year-old started massaging her feet while he watched it—and was very effective! Here is a link: www.pacific-institute-of-reflexology.myshopify.com/collections/instructional-dvd.
Christopher Shirley has practiced and taught reflexology since 1978. He is director of the Pacific Institute of Reflexology, creator of laminated foot, hand and ear reflexology charts, and the instructional DVD Foot Reflexology: A Step by Step Guide. Recently he created the website www.reflexologyresources.com. Phone (306) 525-6199.