Archives
---
Volume 13 Issue 3 —September/October 2007
---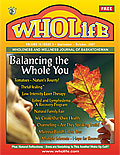 Balancing the Whole You
by Barbara Stahura
Since we typically experience the world only through our physical bodies, we know we are solid creatures, separate from each other and the ants on the patio and faraway galaxies scattered in space. Furthermore, we believe our bodies, emotions, minds, and spirits to be more like stacked alphabet blocks than a seamless whole. And because we believe in separateness, we also know that healing comes from outside ourselves, from a pill or a doctor. Right?
---
Tomatoes: Nature's Bounty!
Paulette Millis
The tomato, "Lycopersicon esculentum" is believed to have descended from a species no larger than marbles. A native of Peru, the people of England and the Netherlands began eating them in the 16th century. The English called it the "love apple" and romancers presented it as a token of affection. The tomato, by cultivation and use, is a vegetable although botanically it is a fruit and can be classified as a berry. Tomatoes are the 3rd most important crop in terms of market value; they have become a staple in most homes. They are one of our favourite foods.
---
Lebed and Lymphedema
A Recovery Program Focusing on Healing Through Gentle Movement
by Rosemary Kelly
What is the Lebed Method?
The Lebed Method (TLM) is an exercise program with a difference. Originally devised for breast cancer survivors, it is designed for people in recovery, taking pain and fatigue into consideration, so that participants can comfortably exercise at their own pace in a supportive and safe environment. The use of chairs is de rigueur (a must) and most exercises can be done while seated or whenever the participant chooses to do so. The benefits of the program include regaining flexibility, balance, and range of motion after surgery. Participants enjoy sharing information with individuals who have had similar experiences.
---
Low Intensity Laser Therapy
From Science Fiction to Reality
by Remi Valois
Low Intensity Laser Therapy (LILT Technology) is commonly called cold laser, or in some science circles, photobio stimulation. This technology is not to be confused with the high intensity/density medical lasers used to thermally cut and coagulate tissues. Laser therapy is still seen by most people today as science fiction, something out of Star Trek, where powerful lasers cut through steel buildings, ships, and planes, burning holes in planets light years away, and Dr. Spock placing probe-like lasers on critically injured victims and, in most cases, having it regenerate patients instantly back to life. Thankfully many science fiction ideas have become present day reality.
---
ThetaHealing™
A Way to Help Improve Your Well-Being
by Jennifer Watson
Imagine if you could change aspects of your life, heal a fractured bone, or create wealth and prosperity instantly. Sound too good to be true? I thought so too until I discovered ThetaHealing. What is ThetaHealing? It is a technique founded by Vianna Stibal, owner of Vianna's Nature's Path in Idaho Falls, Idaho, USA. This powerful, yet simple healing technique brings about physical, psychological, and spiritual healings. It is through prayer and connecting with God, the "Creator of All That Is", that these healings and changes occur.
---
We Create Our Own Health
by Ron Garner
"A journey of a thousand miles begins with a single step." This old adage speaks a powerful truth, and its meaning implies that before anything can be accomplished, one must first initiate some kind of action. But if it is to lead to success, what gives an action its power? How can we know that our first step will lead to success? To walk a thousand miles we must intend to do it, believe that we can accomplish it, make the determined decision to do it, and then take action to implement our decision. Only the person who is doing it can create the desired outcome for his or her own benefit. Someone else can't do it for them. This is how the universe operates. We live in a universe of creation that has nothing to do with religion, but everything to do with the spirit of belief. And that is what is exciting about it. When we think we can, to the point of believing it, we create the life we want, which includes a healthy body, mind and spirit. We are mini-creators. We create our own lives. We create our bodies. The thoughts that constantly circulate in our heads are reflections of our beliefs, and our beliefs do the creating.
---
Bees are Vanishing: Is This Another Wake Up Call?
by Donald Sutherland
Tech news: Science April 18, 2007, has sounded a very loud alarm bell. Beekeepers in every state in the USA, Germany, Switzerland, Spain, Italy, Greece, and the UK report opening hundreds of hives only to find queens, eggs, and a few immature workers. The mature worker bees have vanished without a trace. Clearly, no honey production is possible without thousands of worker bees. It is not just the loss of honey that is worth millions, it is the loss of millions of pollinators for hundreds of varieties of fruits and vegetables. The food production losses are staggering and total in the billions. Beekeepers and researchers are scrambling to find the reason or reasons for such sudden and catastrophic losses. Researchers have dubbed the sudden demise of worker bee populations as Colony Collapse Disorder (CCD). Early reports are that Canadian hives have not, to this date, been seriously affected.
---
Editorial
by Melva Armstrong

For the last several issues we have included a publisher's notice saying that we will be combining the Nov/Dec '07 issue and the Jan/Feb '08 issue into a 4-month issue called Nov '07/Feb '08, which means we will not be publishing a January/February issue for 2008 only. Last year I was graciously asked by a dear 90-year-young friend to travel with her on the Maiden Christmas Markets Voyage of Cunard's brand new

Queen Victoria

ocean liner when it makes its debut in December, 2007. It is a once-in-a-lifetime opportunity so I decided I would not pass it up. The ship leaves from England and stops at Rotterdam, Copenhagen, Oslo, Hamburg, Belgium, and then back to England for a total of 10 days. In order for me to be away in December I needed to combine the two issues. I appreciate your understanding and acceptance of this special change and my apologies for any inconvenience it may cause. I know for those who are advertising events in January and February, and even in early March, it may be a stretch to get everything to us between October 10 to 23, but I trust with this advance notice you will be able to find ways to make this happen. We will resume the bi-monthly format with the March/April '08 issue. From my perspective, the most important thing in today's world is for each of us to continuously improve our well-being physically, mentally, emotionally, and spiritually, and to take responsibility for maintaining our own good health. I think the key to achieving this is learning to heal and balance the whole self.
---
Plus:
Multiple Sclerosis–Hope for Recovery
Channelling: Are They Speaking Truth? … You Decide
Natural Family Fair: Helping Create a Better World
The Maitreya Buddha Relic Tour: A Once-in-a-Lifetime Event
News of Note
From Our Readers
---
Recent Issues
---